Publishing an experience saves your changes to the experience and makes it available on the CareAR Instruct app through a QR code and a URL link.
Note: The QR code used by CareAR is standard with no proprietary information.
Note: If you edit an experience and close it without publishing it, the changes are lost.
The PUBLISH button (

) on the top-right corner in the Experience Builder starts publishing the experience. When the publishing is complete, a permanent URL and a QR code is generated for the experience. You can use the URL link to open the experience on the web browser or the QR code to open the experience in the CareAR Instruct app.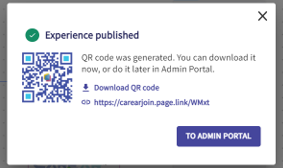 Note: Refer to the Admin Portal to view a list of published experiences.