For end users who are using a Mac OS device with an intel based processor (not currently available for M1 CPU based models) can follow this guide on how to install CareAR Assist onto their Mac laptop/desktop device.
Navigate to https://carear.app/#/download
Click and download 'Download for macOS' (this will download the .dmg file to your default downloads location)

Drag this .dmg file into Application for easier time to find CareAR Assist
Double click on CareAR Assist which will now launch
Depending on the configurations of your Mac device when you first launch the CareAR Assist application after installation you may be stopped by the OS to confirm you wish to open the application. If you do see the below image when launching these steps will help navigate how to launch CareAR Assist.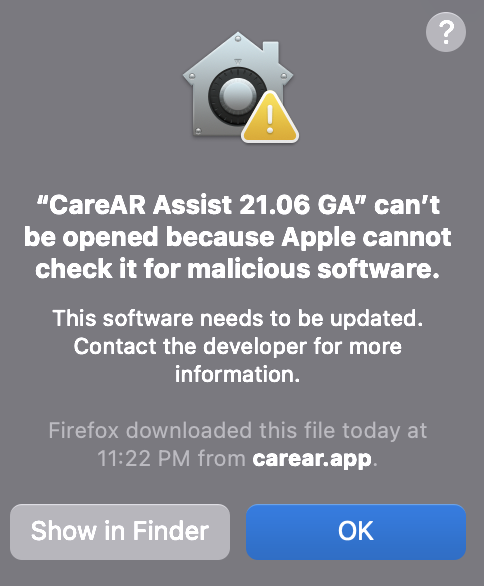 Click on the Apple icon in the top left corner, open System Preferences
Navigate to Security and Privacy

On the General tab in the bottom right corner should be an 'Open Anyway' button

Launch CareAR Assist again, one more message will display

Click Open, CareAR Assist will now launch
After performing these steps future launching of CareAR Assist should not prompt these messages any further and launch the application directly.