Overview of Release 21.06.001
Release 21.06.001 of CareAR Assist is a major feature release with the following content:
App redesign with new UX/UI

Session recording

Session encryption

Expanded wearables support

New macOS application

New drone application

Miscellaneous bug fixes
CareAR Assist Application Redesign
The CareAR Assist app received a complete redesign from top to bottom. The modern new design was based on user feedback received from hundreds of our users. Not only is there are new look and feel, but we've further optimized the app under the hood to make it perform even better.
Improving usability and creating the best user experience are top level objectives for the team at CareAR. Our goal is to help customers deliver the best service experience possible. All end users who have made CareAR a part of their service delivery workflows – from casual users to power users – will find these enhancements helpful.
The following images are samples comparing the Classic version with the new design.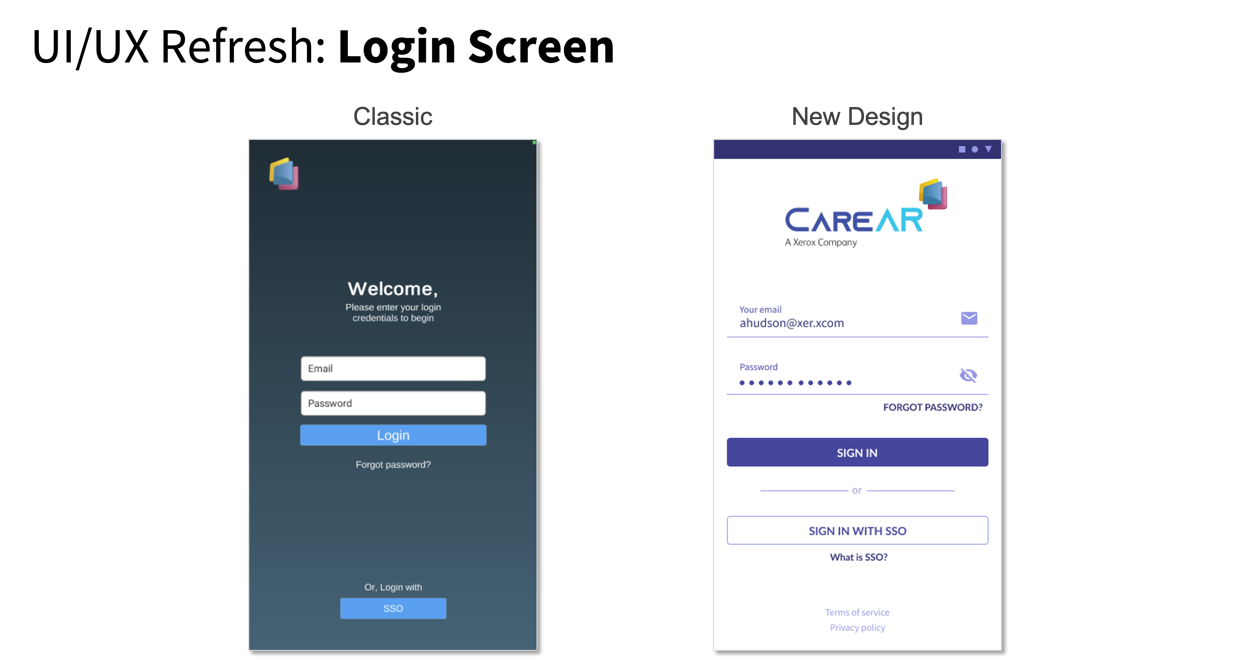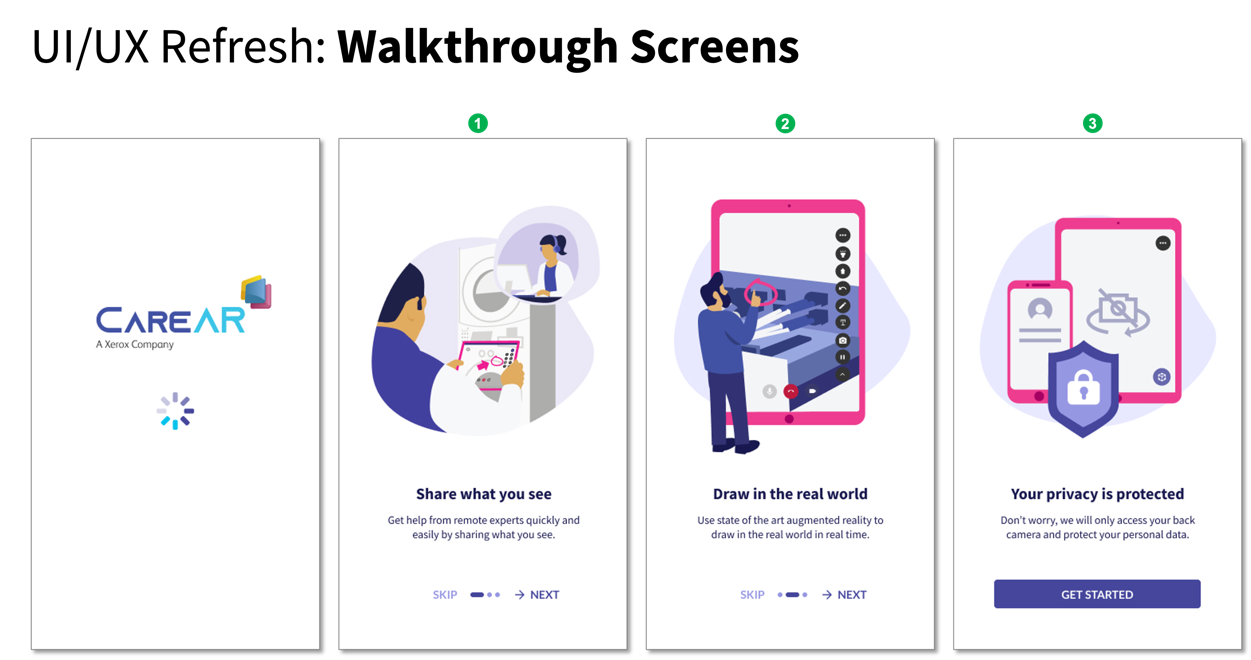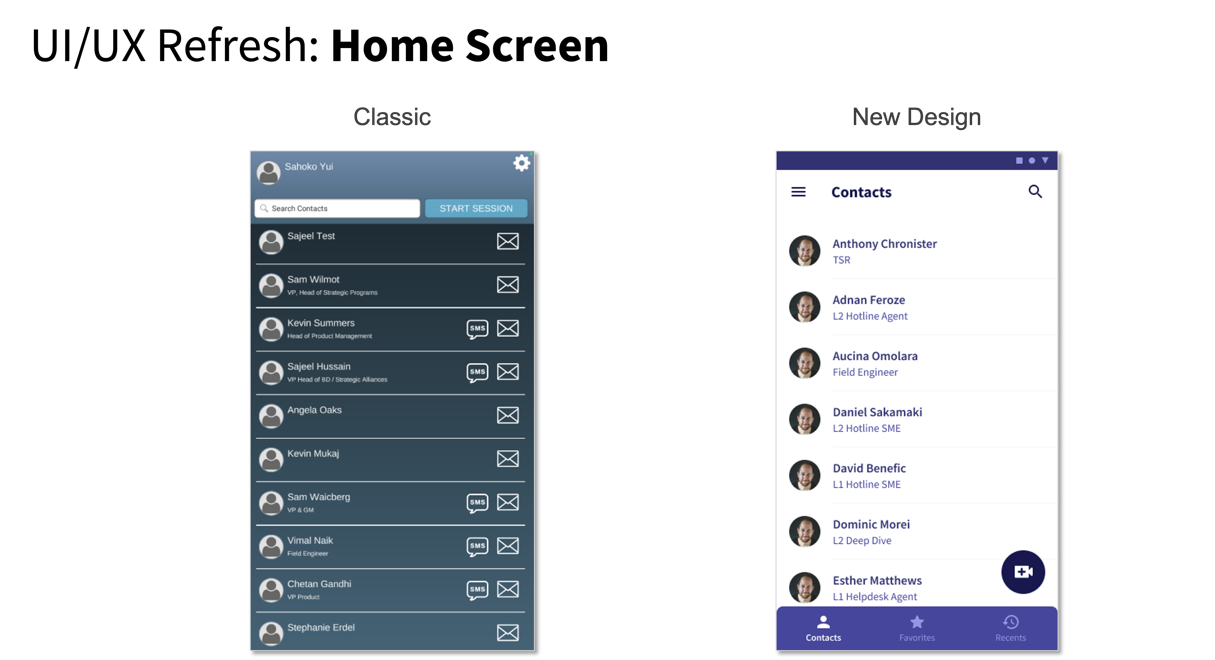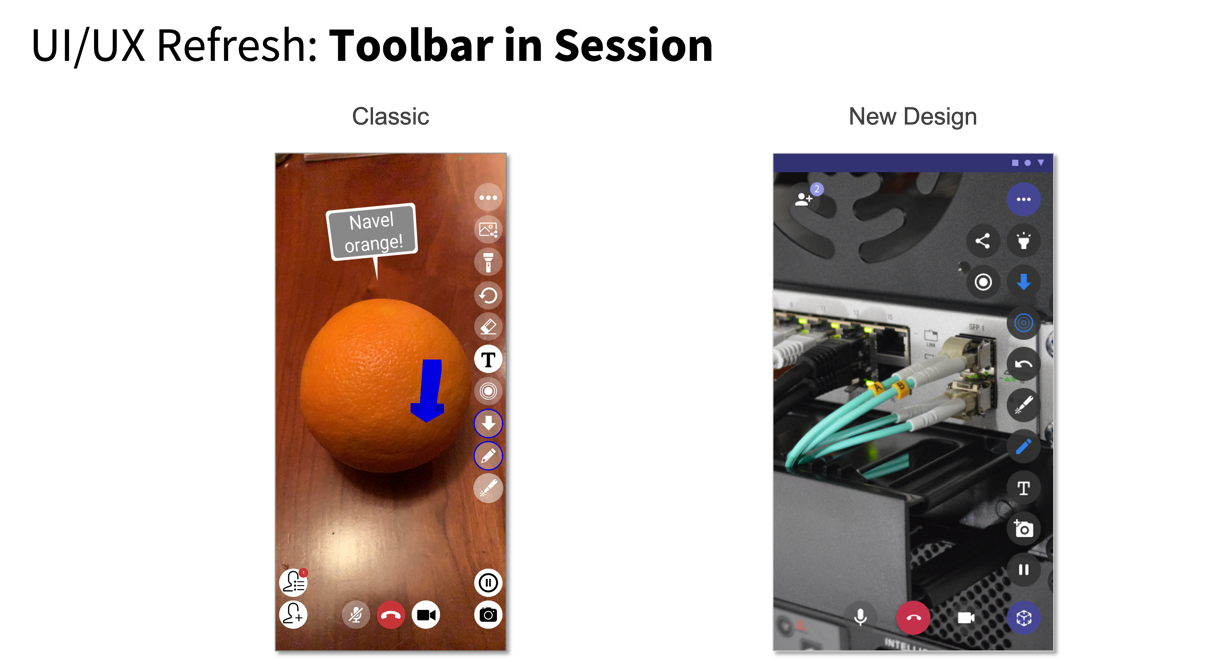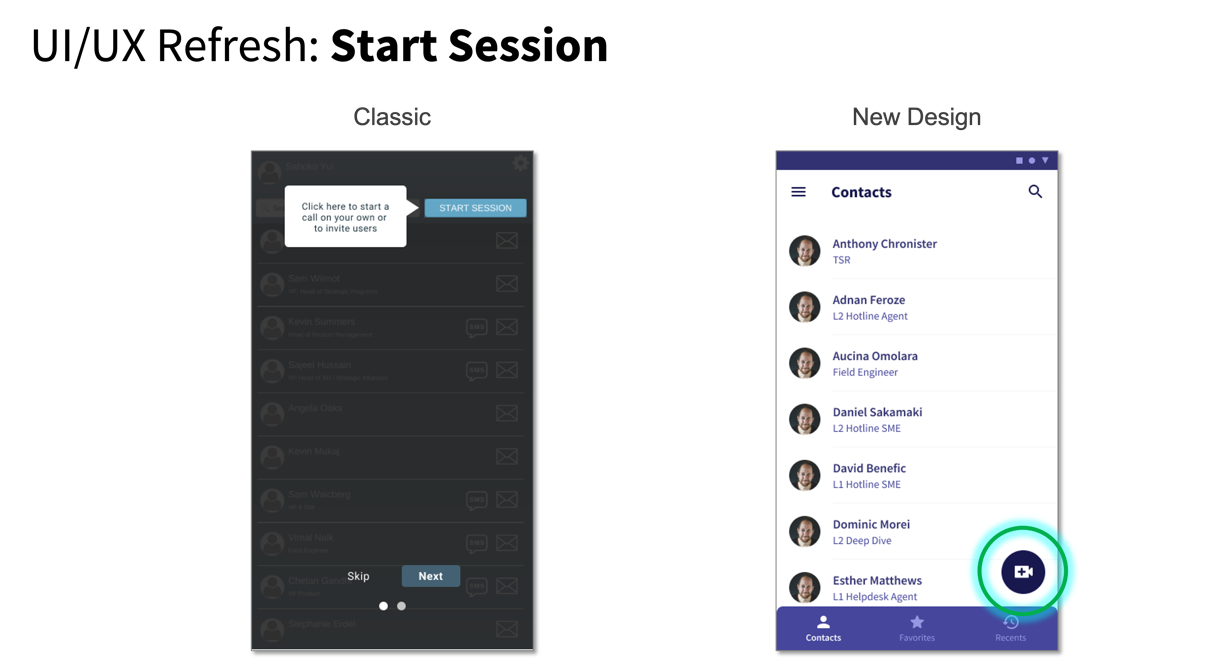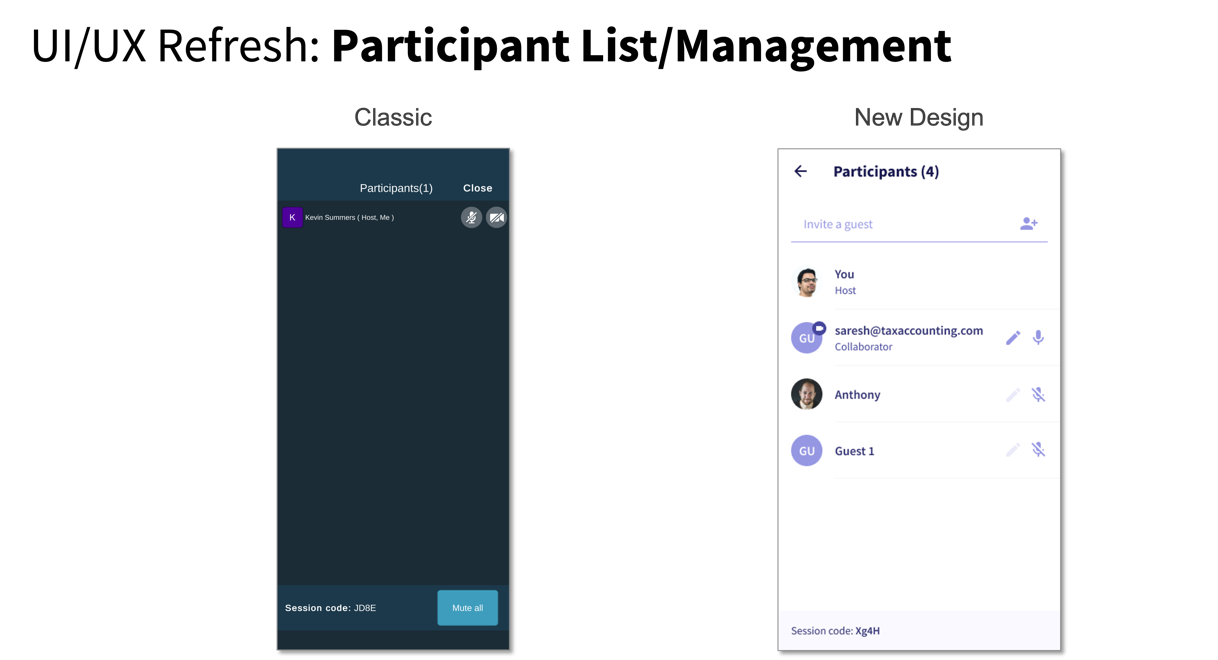 FAVORITES
You can now mark a contact as a favorite, allowing for quick connection to that contact from the Favorites screen. Much like other apps that allow for audio and video communication, CareAR Assist makes it simple to tag those frequently contacted users for easy access.
This enhancement streamlines the session setup process, making it easier on users to get productive more quickly with CareAR.
RECENTS
You can now review past sessions from the Recents screen. With this feature, Assist helps users quickly recall details about past sessions.
BULLSEYE COLORS
You can now set the colors of the pulsating bullseye, the same way you can set the colors for the pen.
TOUR GUIDE
We've replaced the Feature Teacher with a Tour Guide, which as accessible via Help and Feedback screen.
ADDITIONAL CHANGES
Annotations made on paused video frame are preserved when video resumes

Globalized phone number format now enforced: "+" + "CC" + "national number"

Profile support for second mobile phone number

Users with an account may join as an

authenticated participant

OR as a

guest
Session Recording
With this update, you can make high-definition audio and video recordings of your sessions! Your company account needs to be on the Enterprise plan to access this feature. Also, you manage the storage on your own terms. Requires an AWS S3 account.
There are several scenarios where having a session recording is useful:
Creating training content that provides immersive detail for a maintenance or repair procedure

Capturing a problem scenario with video and audio to share with colleagues and mentors for additional guidance and input

Verifying a procedure is executed properly by a new employee who may be unfamiliar with a given task flow

Evidence supporting compliance and audit policies and proof that a given task or procedure was completed

High frame rate capture allows reviewers to slow down the speed of a mechanical action, enabling more accurate troubleshooting and verification

Handover between teams (or workers) mid-task, ensuring task continuity
Depending on the reason and motivation for the recording (see bullets above), this can affect a wide range of employees, trainers, managers, and auditors. Used strategically, this can be a helpful tool to further an organization's digital transformation.
Asian Languages
We add support for Japanese, Indonesian, Malay, and simplified Chinese as part of our ongoing commitment to localization. Auto-detect your mobile device's settings or change on-the-fly inside the app. (This is how our existing language support works.) These additional languages are supported on the app and on the management portal. Again, this reinforces the theme of improved service experience.
Asian language support allows a broader set of users to interact with the application using their first language. Many users are bilingual and having options to switch to a different language on-the-fly enables an enhanced service experience. We believe this greatly aids in adoption and increases the flexibility of the application. This affects primarily the users of the CareAR application and the guests of sessions, enabling more natural and familiar collaboration.
macOS App
By popular demand, we now have a version of the app for Mac desktop. There exists a fairly substantial community of die-hard Mac users – especially in technology verticals. For them, having a native macOS increases the likelihood of adoption. This primarily affects users who want to host sessions from the macOS platform.
The functionality of the macOS app is identical to that of the Windows app.
Expanded Wearables Support
We now include support for RealWear smart glasses and have integrated with RealWear's voice navigation framework to allow for total handsfree operation of CareAR Assist. This complements our existing support of Google's Glass Enterprise 2 product.
We are observing an uptick in the use of wearables for in a variety of enterprise settings. Being able to get remote guidance handsfree improves safety and for many tasks, makes remove visual support more practical when you need two hands to complete a task.
While the wearable market is still nascent when compared to the smartphone, we see a growing number of suppliers providing wearable solutions that are powerful, more economical, and more practical. Generally, this benefits end users who are operating in high-risk environments where maximum safety is needed. Also, users who need maximum dexterity while they collaborate will benefit from voice enabled navigation.
Drone Support
Expand the streaming video in your sessions with live video feeds delivered via a DJi drone. Useful for cases where you need to get visibility quickly on a situation (e.g., across a sprawling campus) or where the subject area is in a dangerous operating environment (e.g., an oil platform or a radio tower).
As drones increasingly find their way into more enterprise, public safety, agricultural, and energy-related domains, real time remote solve in a high definition video and audio session offers a great deal of value to users in those domains. Frequently, a drone operator will make a recording, for store-and-forward review of the drone flight. With CareAR, any number of users can join a session where a drone operator transmits a live video feed into the high definition video session. Often times, drones are deployed in settings where seeing and sharing in realtime is critical to delivering an expedient solution to a problem and CareAR provides the support needed to achieve the desired outcomes.
Drone support benefits organizations that have already adopted drone technology in their operations workflows and are seeking to be more efficient and more effective with their drone investment. This also affects organizations (especially service teams) in the energy and telecoms sectors, where it's valuable for a team to collaboratively review and capture context prior to dispatching service workers (e.g., 5G radio inspection by a small review team).
Known Issues
Copy/paste of password was supported in 21.05.003 and was not propagated into 21.06. We will be supporting in a future release.

Undo all is not supported in 21.06. We will be supporting in a future release.

The Erase tool is not supported in 21.06. We will be supporting in a future release.

When a guest joins via the browser app, in release 21.05.003 a notification was presented to the host indicating that some tools may not be available – also, those tools (for the host) are greyed out. We do not alert the host (or grey out the tool icons) in release 21.06. This will be addressed in a future release.